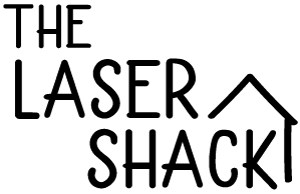 The Laser Shack (formally known as 'Ellen Coff') is a laser cutting and engraving company, run by Ellen and Aaron Coff. We are located in gorgeous Adelaide, South Australia but we are a Dutch and Australian/Dutch couple. In 2017 we moved from The Netherlands to Australia and are loving every bit of it.
In 2018 we bought our own Trotec Rayjet laser cutting and engraving machine. To make the ideal space for it, we upgraded the rat-ridden shack in the backyard to a perfect workshop.
We specialize in geometric animal wall art but have a wide range of other products. We are happy to do custom jobs as well, feel free to contact us about your design. We are able to cut to a size of 1300 x 900 mm but most of the sheets we have are smaller.
Read more about the companies establishment on our BLOG.